Corsair answers the big question: "You want fries with that?"
February 24, 2017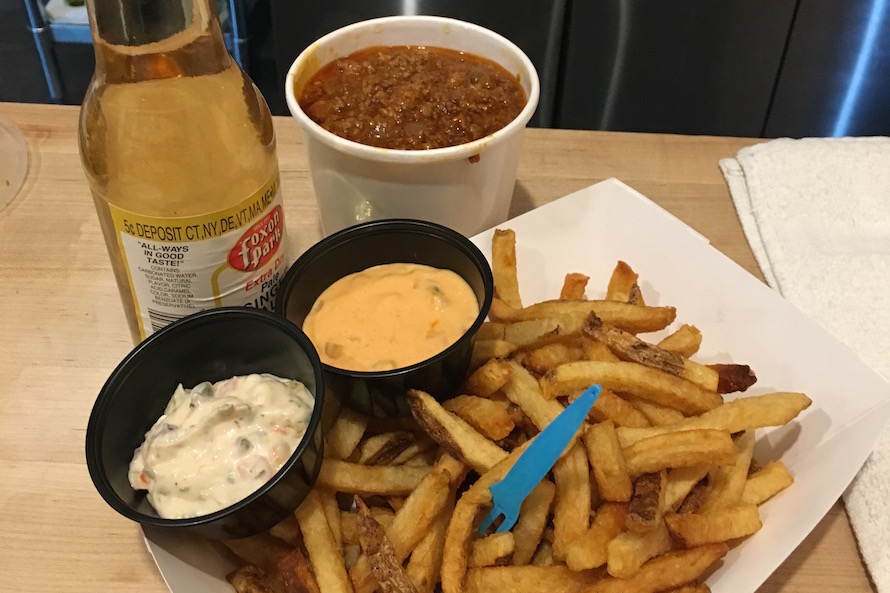 Let's talk about fries in New Haven.
When we're craving French fries at Corsair, there's no shortage of places to go. From our apartments in New Haven, we can head to Rudy's, the homey bar known for its Belgian-style frites. When our mood runs more to seafood than pub fare, we go to Florian (Rudy's fancier sister) for moules frites. And when we want something hot, fast, and greasy to go, the much touted Five Guys chain has not one but two locations in town. Heck, we can even get our fix from a sci-fi themed food truck if we're lucky enough to catch Fryborg on the street.
The catch? All these options mean going downtown or beyond. Sure, the center of New Haven is an easy jaunt from East Rock. (Take a stroll! Ride a bike!) But sometimes we want starchy fried options in the neighborhood. What to do then, seeker of apartments in New Haven? You could eat in and get fries with your burger at Upper State Street pub Christopher Martin's or nearby watering hole J.P. Dempsey's. But for fries to go, East Rockers have had limited options until recently.
Enter Order of Fries, a new shop where French fries aren't merely a side—they're the main attraction.
Look! Something new in East Rock!
Order of Fries (957 State St.) is a compact, mostly takeout eatery a scant three blocks from the apartments of Corsair. You'll find it on a block that includes pastry shop Marjolaine, part of the lively Upper State Street mix of bars and restaurants. Like nearby Jordan's Hot Dogs & Mac, Order of Fries has a name that almost reveals the whole the menu. But there are surprises. In addition to its namesake potato fare, this new addition to East Rock is serious about chili. Their take is meaty (beef and pork, no beans) and spiced for heat and flavor with a blend that includes chilis, cinnamon, and bay. (A veggie version is sometimes the soup of the day, which rounds out the menu with a few salads plus homemade cookies for dessert.) Have a bowl or bring it home by the quart, which may be just the thing for a crisp New Haven evening around the courtyard fire pit at Corsair.
But let's talk about the fries. The signature offering is of the skin-on variety, somewhere between shoestring and wedge in thickness. Of course, they are hand cut, as you would expect from any fry place worth its (sea) salt. Then there are the sauces and toppings. There's always standard ketchup, but why not upgrade to the chunky spiced variation? Or more unusual choices like Thai peanut or bacon-n-blue? The daily specials, however, are where it gets really interesting. Look for French onion sour cream, chili oil and red curry paste, or even pulled pork.
A regular order of fries at Order of Fries is a hearty snack or small-but-filling lunch, but the party size ($18) feeds six to eight. Hot and crispy fries in your apartment in New Haven? Sounds like a party to us.