A new routine with your new apartment in New Haven—riding bikes! (A guide from Corsair)
June 21, 2016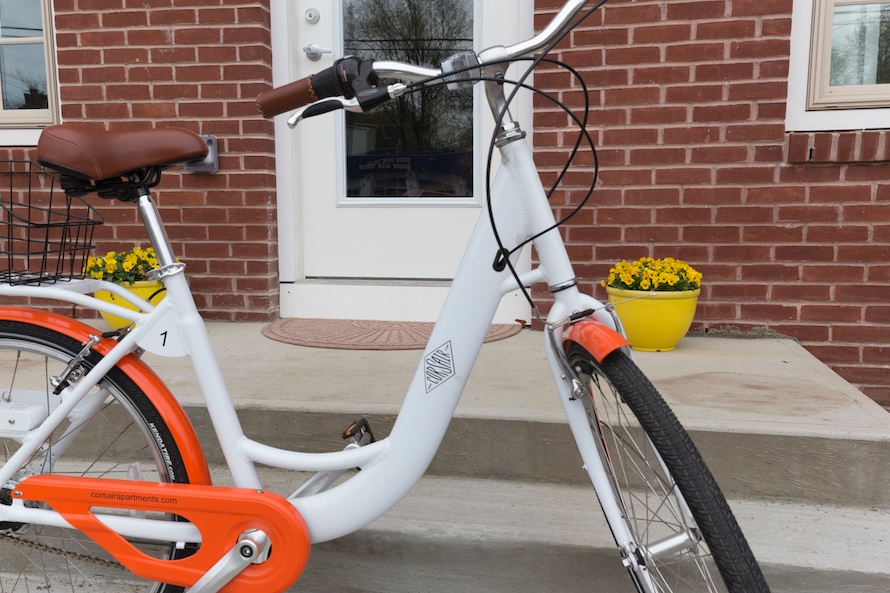 You're got your new apartment in New Haven and your bike. Now find a ride.
Need a place ride your bike (the Corsair bike-share bike or your own) near your new apartment in New Haven? Sure, you could always hop on the popular Farmington Canal Greenway or just cruise around town. (Check out our earlier guide to New Haven bike-riding basics before you do.) But if you're looking for something more structured, you can also try a tour or group ride.
Certain times of year (like right now!) offer more options for riding with a group. During May, of course, there's a ton of activities for New Haven Bike Month. In June, the International Festival of Arts & Ideas offers free bike tours on weekends and every Wednesday during the festival. (It's June 10-25 this year.) These rides are more about the tour than the bike—think sightseeing and destinations rather than racing or getting a workout. You can ride to local farm for a strawberry festival, visit historic sites or go on a scavenger hunt, to name a few. They're a great way to discover a part of New Haven you may not have known.
But there are also chances to get out with a group year round. Two coffee shops near Corsair are regular starting points for bike rides. Try Coffee Pedaler (a block from Corsair) and Cafe Romeo (nearby in East Rock on Orange Street) on weekends and Tuesday and Thursday evenings. These rides tend to skew toward cyclists who are more athletic or experienced, or at least have road bikes. (Read: not for bike-share bikes.) There are exceptions, however. Look for occasional "sneakers-and-jeans" rides if want something less strenuous. To find times and dates for specific rides, join the New Haven Bike Rides Facebook group. If you don't see the type of ride you're looking for—road or mountain, athletic or social—you can post your own.
For a low-key excursion for any level of rider, look to the group Outspokin'. This friendly bunch focuses on leisure rides, often ending with food or ice cream. Join them Sundays at 10 a.m. and Wednesdays at 5:30 p.m. Check out their Google group for details.
An old standby for bike riders of all types in New Haven is Critical Mass, which leaves from the flagpole on the Green at 5:30 on the last Friday of every month. This long-running monthly ride has its roots in a worldwide movement to assert bike riders' claim to the streets. In New Haven, however, it's less of a protest and more of an affirmation that a lot of people in town ride bikes. The sometimes block-long crowd of people on bikes is something you have to see.
Newer to the scene is New Haven Bike Party, on the second Friday of every month. (Check their Facebook page to find the starting location every month.) You can't miss it—the ride leader is towing a speaker blasting party tunes. This event aims to introduce people on bikes to New Haven neighborhoods, but as the name implies, it's mainly about having fun. Silliness is encouraged, as is dressing up to match the monthly theme. Recent ones include neon, animals, and the prom. Take your bike (any kind), your crazy outfit (or not), and your fun-loving self.
Whatever your preferred ride type, there's something for you in New Haven. See you on two wheels!