A fashion runway at your New Haven apartment? Sure, if you live at Corsair!
June 16, 2017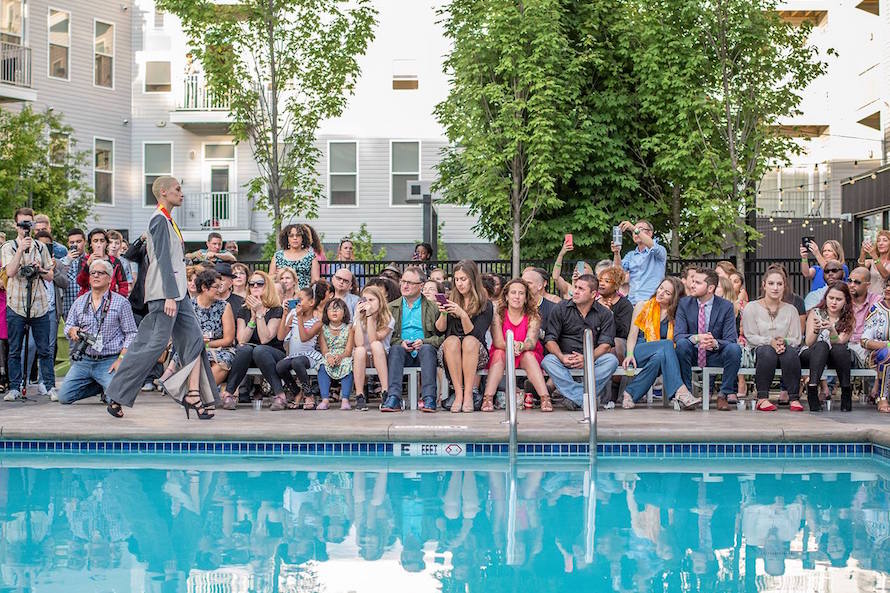 Bet you thought you had to go to New York to experience a Fashion Week-style runway show. What if we told you could do the same in New Haven? And that, sometimes, you could get a first look at a designer collection right at your New Haven apartment? That's what happened at Corsair recently, when New Haven fashion designer Neville Wisdom unveiled his new work in our courtyard.
Fashion that's "fresh, hip" and made in New Haven
In the years since he's opened his design studio, Neville Wisdom has become a New Haven institution. He started with Westville studio in 2008 and later opened a second storefront in Ninth Square on Orange Street, right when the area was filling up with new businesses. Since then, he has dressed everyone from New Haven's mayor to Connecticut news anchors, not to mention all kinds of fashion-minded New Haveners. His clothes are noted for their "classic lines, innovative construction and natural fabrics that breathe and move," according to the press. His signature pieces are also described as "vintage classicism with fresh, hip touches and a fit that flatters." Of course, his clothing also carries the distinction of being designed and made locally. Like Corsair, it carries the Made in New Haven label.
The event of the season
Neville Wisdom's fashion shows are much-anticipated social event. Past locations have included City Hall, an empty bank building, the street outside his studio, and Corsair neighbor Mactivity (just around the corner in the Goatville section of East Rock). This year, Corsair was lucky enough to host this must-attend event, which also featured food by top New Haven restaurants and pre-show drinks at our bar. It was the first time Wisdom has debuted his new collection from a New Haven apartment building. As you might say of custom clothing, what a great fit! The "backstage" area even gave new meaning to the term "model apartment."
And about the clothes: Neville Wisdom's newest collection is in part inspired by the tropical flair and resort sensibility of his native Jamaica, he explained. That showed in the sunny colors, bold patterns, and bright florals. We could see wearing these dresses while hanging out on our roof deck for a summer party! The clothes also felt at home by the pool, with guests relaxing in deck chairs and in the cabanas and Corsair residents watching from their courtyard balconies. With the beautiful late spring weather, it might have been an island resort instead of a New Haven apartment building. Make that a very fashionable resort.
[Photo: Daniel Eugene/Studio Feruvius]