Corsair loves coffee: a guide to New Haven on #NationalCoffeeDay
September 29, 2016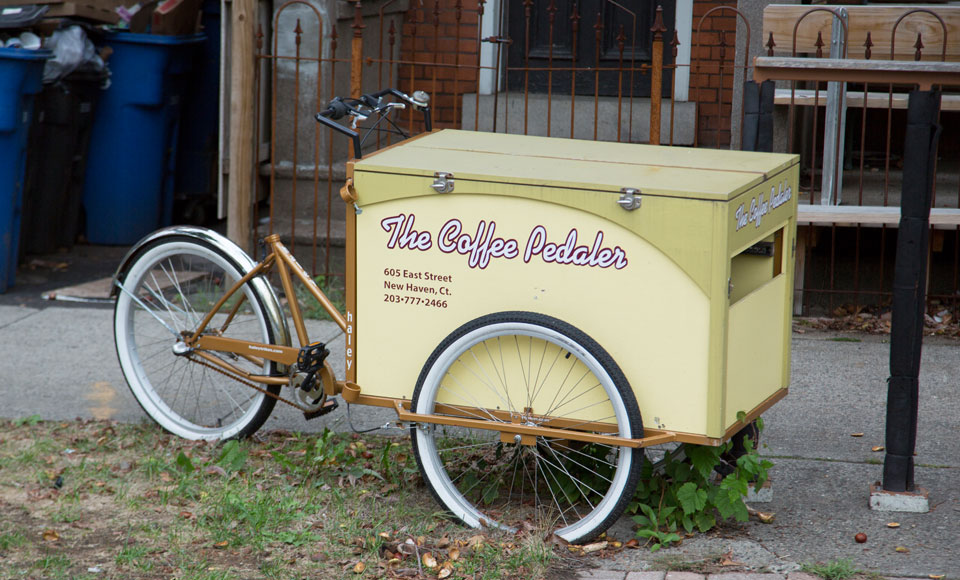 You're never far from coffee at Corsair. If you're the sort of person for whom a morning cup is mandatory, you're covered here. Just walk into the lobby or out of your apartment and there's brewed-just-for-you coffee, 24/7.
But sometimes you do have to leave the apartment building, even when it's full of luxury apartments. Thankfully, East Rock is a lovely neighborhood in which to meet your caffeine requirements. (And, it must be said, a lovely neighborhood, period.) And, of course, you would expect any college town worth its salt to have plenty of places to get coffee. Yale University's hometown is no exception—you can get your fix without going to Starbucks or Dunkin' Donuts. (Although, don't worry, we've got plenty of those, too.) Let's explore the homegrown coffee shop options in our neighborhood of East Rock and yonder in our fair city.
The Coffee Pedaler
A stone's throw from Corsair off Upper State Street (605 East St.), this is perhaps New Haven's first pour-over coffee place. It's most definitely the first with a bike theme. (As previously mentioned, regular group bike rides start at the Coffee Pedaler.) This serious-about-coffee shop is also the only place in town to sell Montreal-style bagels. And if you need to stock up on cold brew from your apartment in New Haven, they sell bottle it, stamp it Made in New Haven, and sell it in six packs.
East Rock Coffee
This cozy neighborhood hangout behind P&M Orange Street Market (49 Cottage St.) gained fame when it was known as Lulu's and played a starring role in a much-read New Yorker piece. (Also read this take by author, NPR regular and East Rocker Jack Hitt.) But this little shop has come into its own as East Rock Coffee with an expanded menu, game nights, art shows and lots of other activities. They even stepped up to organize the East Rock Block Party when a popular street festival was put on hold.
Koffee?
Straddling the edge of East Rock and downtown (104 Audubon St.) in the Audubon Arts District, you might stop here if you find yourself between Corsair and Yale. This quizzically-named coffee shop is a popular spot for grad students to work. It's also the place to pop in if you're taking a class or checking out a show at Creative Arts Workshop or Neighborhood Music School. Koffee? was also one of the first coffee shops in New Haven to branch out into wine.
Willoughby's Coffee & Tea
This is the grandfather of the New Haven coffee roasters, now with locations all along the Connecticut shoreline. New Haven's older branch (258 Church St.) is near the courthouses, banks, and City Hall, making it a workday go-to for many downtown professionals. There's also a satellite at the Yale School of Architecture (194 York St.), no doubt fueling many late-night projects.
Katalina's
This Whitney Avenue shop (74 Whitney Avenue, also kind of between downtown and East Rock) makes the list as a service to the fans of Stumptown Coffee, which is served here. It's not technically a coffee shop, but a bakery specializing in cupcakes.
Atticus Bookstore Cafe
No list of coffee shops in New Haven is complete without Atticus Bookstore Cafe. It's a mainstay of downtown New Haven on the ground floor of the Yale Center for British Art and across from the Yale Art Gallery. Go for the books, the breads from Chabaso bakery, and the famous black bean soup. (The answer to "sour cream and onions?" by the way, is "Yes.") They've been around for 40 years and are selling $1 coffee right now to celebrate.
Booktrader
Farther west on Chapel Street (1140 Chapel St.), in the surrounds of the Yale School of Art and the Yale School of Law, is another books-and-coffee retailer. Their scones are some of the best and most creative around, with sweet and savory options that change daily. (Even better than Atticus? Better try them both.) Also, the used book selection is solid and its tiny courtyard is some of the nicest outdoor seating downtown.
Blue State Coffee
Medical personnel take note: this New England mini-chain deserves mention here for having a branch near Yale-New Haven Hospital. (320 Congress Ave.) Its other location is 276 York Street, off Broadway, one of New Haven's main shopping areas.) Now we know where the medical residents, doctors, and nurses are getting their pep.
The Happiness Lab at the Grove
This New Haven coffee shop (756 Chapel St.) is many things. It's the place to get coffee downstairs from a popular co-working space. (The Grove, a favorite of New Haven's creative types and entrepreneurs.) But it's also home to a business-within-a-business, Elm City Games. Along with getting coffee, you can reserve a spot by the hour to use their extensive board games library.
Fuel
When you need to fortify yourself before braving the lines at for a New Haven apizza at Pepe's or Sally's, this tiny Wooster Street shop is the place to go. Also check them out when you're shopping the CitySeed Wooster Square farmers' market on Saturday morning. Or if you need vegan snacks and punk rock reading with your coffee. (Our blogger calls dibs on the Maximum Rocknroll.)
Jitterbus
Were there a category for most adorable coffee place in New Haven,  this would surely win. It's mobile coffee shop. In a vintage bus! Look for it in and around Hillhouse Avenue, in between the Yale School of Management and the Yale School of Forestry and Environmental Studies.
Now please excuse us. Our blogger needs another cup.