Could these shops be the pantry for your New Haven apartment?
May 14, 2017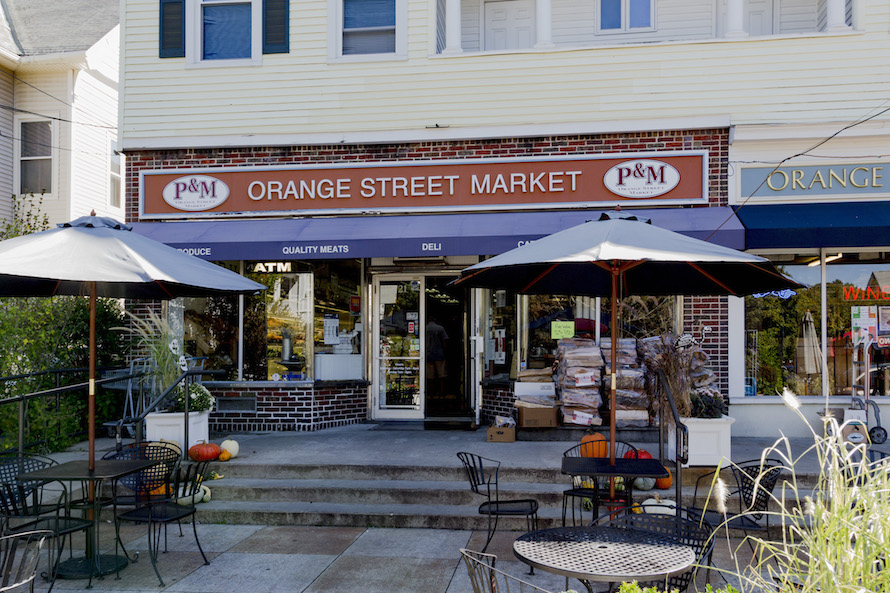 Some of the most beloved features of New Haven apartment living are the neighborhood markets of Orange Street. These aren't expansive supermarkets, nor are they bare-bones convenience stores. But these speciality grocers have what you need to stock your fridge or pick up a hot meal most nights. And if you live in East Rock, there's nowhere more convenient. In fact, some East Rock loyalists forego supermarkets entirely and do all their food shopping on this leafy street with views to the park.
At Corsair, which anchors the part of East Rock known as Goatville, you always have the option to jump on 1-91 and be at your pick of supermarkets in minutes. But picking up a few things for dinner on foot is a welcome alternative to the highway. None of these shops are more than a 12-minute walk from Upper State Street and Corsair. Or take your bike—Orange Street has one of New Haven's longest bike lanes. These markets all have their loyal crowds; if your New Haven apartment is even remotely nearby, you must have a favorite. When you're settling into New Haven, try them all before picking yours. Here they are, listed by distance from Corsair (which could be your new New Haven apartment!).
The huge panini and sandwich menu must be the big draw, which is why it often feels like the resident of every New Haven apartment is line for a sandwich here. Like its competitors on Orange Street, Nica's has a vast array of prepared foods and a respectable deli counter, especially when it comes to Italian cured meats. But there are surprises, too. For instance, who would have guessed they have empanadas? The baked goods, kept in a serve-yourself case, are also handy if you need a box of linzer tarts or some rugelach to bring to a party.
While Nica's has the fixings to make your own marinara—imported tomatoes, fresh herbs and the like—they also offer their own pasta sauces in a jar. There's even one for pizza. (Good to know if you plan to use the courtyard pizza oven at Corsair!)
At 603 Orange St., you can walk there in 11 minutes from Corsair.
This is the smallest of the three, but Pino's, as the insiders call it, has the most well-rounded selection of groceries. The meat counter gets high ratings from those in the know, there's just enough produce to cover the basics, and the sandwiches are tops. But if you need that yogurt that you can't find at the supermarket, locally made fresh pasta, a jar of giant caper berries, or Spanish smoked paprika, P&M also comes through.
Convenience alert: P&M is also the only one of the East Rock markets that lets you order online.
Bonus convenience: this tidy shop is adjacent to Orange Street Liquors, making it easy to pick up beverages (mostly beer) along with your food. In fact, sandwiches from P&M and a six pack from Orange Street are the start of a good cheap summer night out for many an East Rocker. Take them outside to P&M's patio, call your friends, and you have the makings of an entirely pleasant evening.
At 721 Orange St., you can walk there in 10 minutes from Corsair if you map it right.
Although all three Orange Street markets have a noticeably Italian flavor, it's perhaps most pronounced at Romeo's, as the oldest of the three is known. (But don't confuse it with Café Romeo, which has the same owners, down the street. That's more of a sit-down coffee and lunch spot than a grocery store.) The Italian focus shows in the giant blocks of Parmesan by the door and in holiday traditions like a giant imported chocolate egg at Easter and panettone at Christmas. In addition to pantry staples like tomato paste and olive oil (sold under their own label), there are some wonderfully obscure imports. (European chewing gum, anyone?)
Worth noting: in the summer, some of the produce at Romeo's is from Connecticut farms. If you can't get to the farmers' market and need a superior tomato or some fresh plums, look here. And if you want food really local to your New Haven apartment, they even have made-in-East Rock honey.
For many, though, the highlight is Romeo himself, the friendly proprietor whom you'll often find sitting outside and chatting with customers. If you live in East Rock long enough, you'll probably be on a first-name basis.
At 771 Orange St, this market negligibly farther than from Corsair than P&M—a 12-minute walk. But it's also just slightly closer to the College Woods entrance of East Rock Park.