From their apartments in New Haven, East Rockers go to this pizza shop
February 28, 2017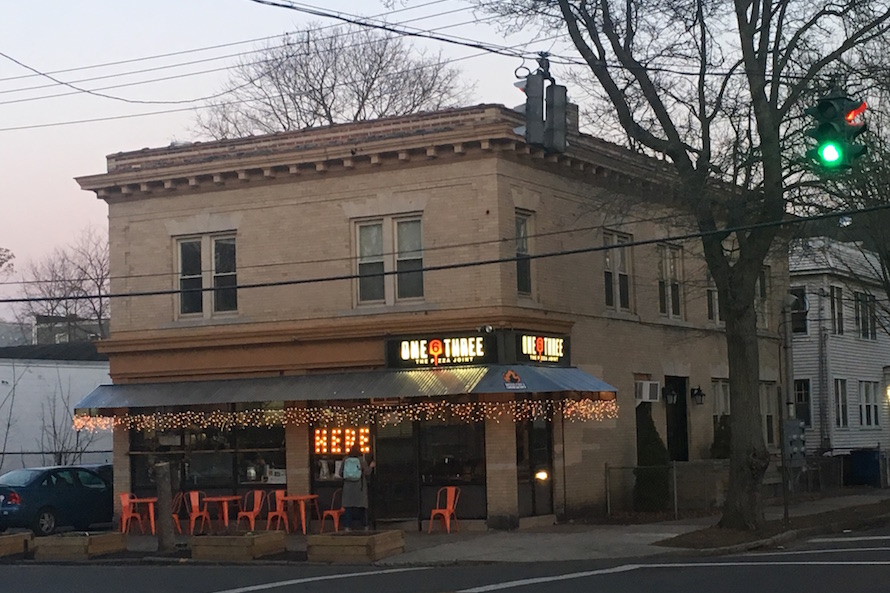 New Haven has so much pizza that there are tiers of pizza greatness, anyone looking for apartments in New Haven will quickly discover. There are the nationally ranked, take-your-out-of-town-guests destinations and then there are the unassuming storefronts where you stop for a perfunctory slice. (The Upper State Street surrounds of Corsair have one of the former, the legendary Modern Apizza.) Somewhere in between is another category of pizza place. These pizzerias might not be famous outside of town or even outside the neighborhood, but they make pies in the New Haven tradition—i.e. with a thin, charred crust—and are a dependable stop for local fans. Here in East Rock, One 6 Three is that kind of place.
This roughly year-old shop is a half mile from Corsair in the area of East Rock known as Goatville—historic home of industry and now new apartments in New Haven. The pizza shop's location (163 Foster on the corner of Willow) is a bit removed from the East Rock's neighborhood's main commercial stretches, Upper State and Orange streets and Whitney Avenue. It is, however, one block from a definite New Haven institution, the 100-plus-year-old wings purveyor and bar Archie Moore's. You'll spot One 6 Three by its bright orange seating outside. Also look for the dog leash station, complete with water bowls for your furry friends.
What about the pizza?
Like Corsair favorite Da Legna, One 6 Three is unmistakably new school in its approach to pizza toppings. But One 6 Three takes it even further with a roster of speciality pies that might raise eyebrows among the Wooster Street pizza traditionalists. If you've ever wondered what pulled pork, BBQ sauce and blueberries tasted like on a pizza, order "The Memphis." Alternately, "The King" is probably one of the few pizzas anywhere to include peanut butter. The menu is heavy on word play (some saucy uses of the term "meatball") and meat (an entire section devoted to bacon). But the wood-fired ovens at One 6 Three also turn out pies with lesser seen (on pizza) veggies like asparagus and Brussels sprouts. You can also get the most New Haven of all pizzas, the eminent white clam pie.
This self-described "pizza joint" is one of surprisingly few BYOB places in New Haven, so come prepared. Closest to One 6 Three is Orange Street Liquor Shop, one of several options for beverages in East Rock. Recently renamed Bottles is a stone's throw from our apartments. Meanwhile, Wine Thief, which delivers to Corsair, is a bit farther out. Otherwise, One 6 Three has selections from Foxon Park, the local maker of sodas that are a classic part of the New Haven pizza experience. (Try the birch beer.) Afterwards, you can amble home, belly full, happy that apartments in New Haven are never far from pizza.