The Corsair guide to City Wide Open Studios
October 22, 2016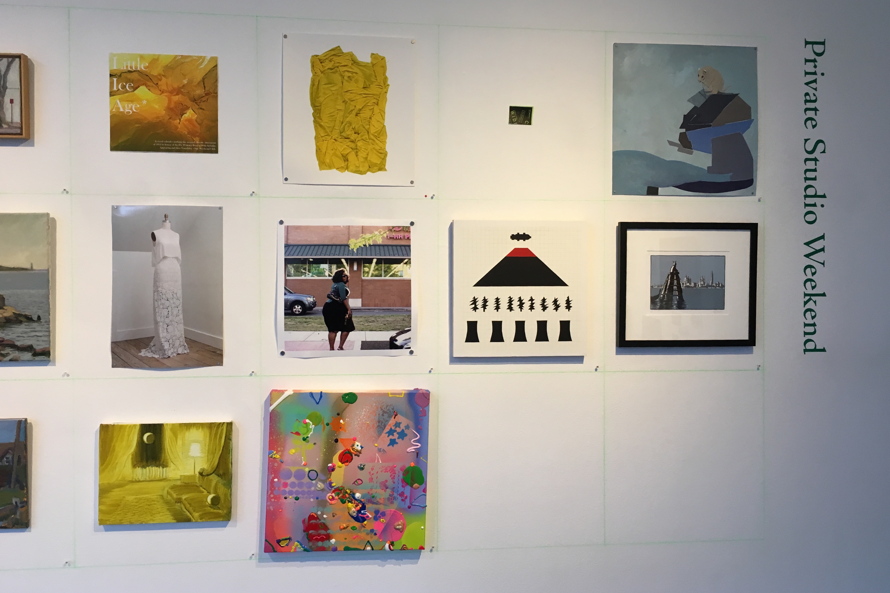 If you love art in New Haven, you probably know about about City Wide Open Studios and how it's going on right now. (Including some special events in and around Corsair, which we'll get to in a moment.) And if you enjoy having art in your apartment like we do, you're in luck — this is an excellent way to find some art for your home. But if you're new to New Haven and this weeks-long arts extravaganza, don't worry! We'll explain. This event holds special significance for us at Corsair because it's how we met many of the artists whose work is featured in the building, right alongside its many amenities.
As you might guess, City Wide Open Studios is an opportunity for the public to visit artists studios in New Haven, meet the artists and see their work. (For a more detailed description, try this overview from the New Haven Register.) The event unfolds across New Haven over multiple weekends starting in early October. There's a weekend focused on a single neighborhood, one for a temporary exhibition space, one for New Haven's largest complex of artists' studios, and one for studios everywhere else. The home base for all of this is Artspace, New Haven's community-focused contemporary art gallery. You can visit the gallery downtown to pick up a directory and plan your studio visits. Throughout the month, there's one work on display by every participating artist.
To make the most of your studio visits, try this scavenger hunt game from Site Projects, another New Haven arts organization. You could win a prize! Beyond studio visits, however, look out for related events around town.
See their art at Corsair—now see their studios
While you're out exploring studios, look for the work of Corsair artists. (See some of them in this video.) Johnaker, who created our garage mural, showed earlier this month. Three Corsair artists are showing this weekend: Susan Clinard, Sabrina Marques and Silas Finch. Jeff Mueller of Dexterity Press will be showing the following weekend at Erector Square. This Sunday (10/23), he'll also be giving a talk at Corsair during happy hour, 5 to 6 p.m. (More on that below.)
Special events at Corsair
This weekend—Oct. 22-23—City Wide Open Studios is all about individual studios around town. Part of the fun is exploring New Haven, but finding every location on your own can be tough. Enter the bike ride, the most efficient and fun way to see them all. (We love bikes at Corsair— we even have our own bike share.) Rides leave from the Devil's Gear, downtown's largest bike shop, at noon both days. Don't forget your helmet. (Details on the Saturday route are here and the Sunday route here.) Both of the rides end at Corsair, where we'll enjoy some drinks, include samples from The Juice Box, New Haven's new juice bar.
Update (Saturday, 10/22): today's ride is canceled due to rain. Check here for updates on Sunday's ride. Happy hour is still on!
Bonus round: more to do near Corsair!
There are lots of other events happening in the neighborhood this weekend that are unrelated to Open Studios. So many options on Upper State Street! Here's a few:
OK, it's sort of related to Open Studios—East Street Arts is having a flea market. Pick up some handcrafted wares at this do-gooding arts center that we've written about before. Caned chairs and handmade rugs look great in your apartment.
There's a State Street pub crawl starting at noon on Saturday at Modern Apizza. Visit six Upper State Street favorites ranging from neighborhood standbys like Christopher Martins to a brand new restaurant. The best part: none is more than six blocks from Corsair!
Then, Vintanthromodern, easily Upper State Street's most stylish shop, is having a birthday party on Sunday. Shop for vintage and handmade goodies (for your Corsair apartment, of course) and have some treats.
Finally, Bradley Street Bicycle Co-op is having a basketball day on Sunday. Shooting hoops at the neighborhood bike workshop? Sure, why not?
Plus, all of the above are timed such that you can make it back for happy hour at Corsair! See you there.